PRINT
Branded Apparel Penetration Beyond Metros
Indian fashion retail industry is transforming rapidly, thanks to growing organized retail, increasing purchasing power and the new-found "look good-feel good" concept in the youth. This article explores the scope of branded apparels beyond metros by analyzing consumer behavior in the suitable target segment and developing market insights. It maps consumer expectations with key success factors for the industry and recommends suitable entry strategies for leading players considering their individual strengths and weaknesses.
Despite the economic downturn, Indian clothing apparel industry registered a 9.9% value growth reaching a staggering Rs. 28.10 billion 1 (Exhibit 1). Men's & women's branded apparel markets are growing annually at rates of 21.8% & 23% respectively (Exhibit 2). International brands such as Benetton, Lacoste, Levi Strauss, Nike, Hugo Boss and Tommy Hilfiger have already built a retail presence in India.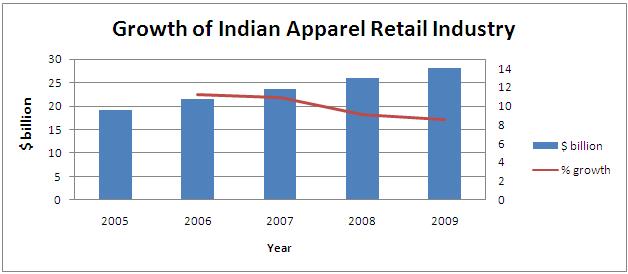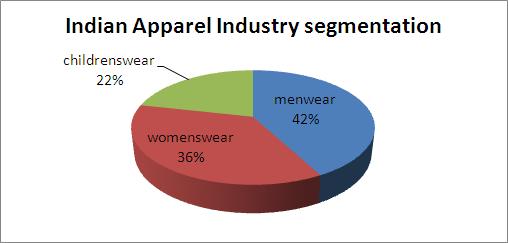 Couture is no longer confined to metros; Semi-urban and rural populace are becoming more value-conscious and these non-metro customers are rapidly adapting branded apparel. Penetration of organized retail chains has contributed to the growth of fashion apparel in these markets. Markets in metros are maturing and market expansion in non-metros seems like the way forward. But price-conscious consumers and the threat of imitation pose enormous challenges for apparel manufacturers in these highly fragmented markets 2 .
Segmentation & Targeting in Indian Non-metro Market for Fashion Apparel Products
Considering the fact that fashion is a matter of personal choice and has different meaning for different age groups, age seems to be the most relevant criterion for market segmentation. The market can be classified into four age groups: Children (< 17 years), Youngsters (17-30 years), Middle-aged (31-45 years) and Old (> 45 years).
Next we have to select one or two segments from the above and target the offerings accordingly. The most favourable and profitable segment is the Youth (17-30 years). This includes college students and young professionals. Few characteristics of this segment that facilitate penetration of branded apparel are:
Increasing disposable incomes due to the fast growing Indian economy
Shift in spending patterns from basic to lifestyle; increased spend on apparel, personal care
Guilt free spending
Savings pushed to low priority
Investing in looking good and maintaining an image in society
Consumer Survey Analysis
To validate our findings from the focus-group discussion and in-depth interviews 3 , we conducted a customer survey. The respondents were in the age group of 17-30 years which is the target population for this research. In the following discussion, the consumer behaviour towards branded apparel as obtained from the research is analysed.
Communication Sensitivity

The effectiveness of communication in attracting the consumers depends on multiple parameters like preference of consumers towards a communication medium, type of sales promotions and brand perceptions. These are explain below.
Source of awareness

The table below describes the mean ranks ascribed by respondents to each of the given sources of brand awareness. Billboards emerge as clear losers among the 5 sources. (Exhibit 3)

Brand Perceptions

From multi-dimensional scaling we obtained the following perceptual map of various apparel brands (Exhibit 4) where the dimensions 1 and 2 were determined to be 'Casualness' and 'Masculinity' respectively.

The brand perception of non-metro youth along the described dimensions reveals a clustering of brands in the customer's psyche along the lines of product type. Hence, the denims (Levi's and Wrangler) appear together and so do the semi-formal wear (Wills and Provogue). Arrow being mostly formal is slightly away from the previous category.The existence of such clusters in the consumer's mind along product types makes it difficult for marketers to differentiate themselves among competitors in the category. For instance, Levi's, Wrangler, Lee and Pepe are perceived to be similar, i.e. 'Premium Denims".

Sales Promotion Preference

The preference in non-metro youth towards various sales promotion offers(Exhibit 5) showed the following trends according to the survey:

Price discount emerges the clear winner as a sales promotion measure followed by "Buy X, Get Y free". Does the traditional "value for money" mentality of non-metro buyers, which we found to be weakening still remains deep-rooted? The response to this question partly suggests that it is true: remnants of a traditional buying behaviour where consumers are attracted to discounts.
Acculturation
In this section we analyse the acculturation process which non-metro youngsters encounter through analysis of psychographic profiles of target customers and studying the influences on their purchase behaviour.
Psychographic Variables

Discriminant analysis results reveal the important variables that distinguish between people who don't purchase branded apparel and those who do. A branded apparel buyer is expected to rate the following characteristics high.

My whisky has to be better than Royal Challenge
I dream to own a Mercedes in 10 years
I follow the fashion circuit on internet/ newspapers keenly
I attend rock shows without fail
I love smoking cigarettes

Influencers

The TG is impressionable and our preliminary investigation revealed that the key influencers in apparel purchase for the TG are parents, friends, advertisements and role models. The following table shows the mean score out of 5 given to each influencer depending upon their level of influence. Friends emerged as clear winners while influencing power of parents, advertisements and role models was almost equal.
Rational and Economic Decision Making
The final purchase decision by a customer depends upon rational factors of importance and the willingness to pay for the same. The insights regarding this obtained from survey are:
Factors of Importance

Factor analysis groups the factors that influence the consumer's buying decision process into 3 broad clusters as shown below. Analysing the sub-factors within each cluster, we denote the macro level factors as,

Signaling Style and Status
Fabric Quality
Value for Money

Premium Paid for Brands

The non-metro youth indicated the highest willingness to pay in the range of 10-25% above the non-branded items for branded apparel. This range is much lower than the mark-up on premium brands such as Levi Strauss and Arrow. Rational and economic decision-making prevail while eying a premium brand in many cases.
Key Success Factors for marketers/brands in non-metros
Based on the understanding of consumer behaviour, we have identified the following as the key success factors for youth in the non-metro regions.
Ability to offer products across all major price points

This factor is crucial as a major parameter in apparel purchase among youth in non-metros is whether the apparel is value for money. This factor stands for durability and budget constraints. To allocate for budget constraints, the products should be available across different price points.

Ability to establish a distinct positioning in the customer's psyche

As established from the brand perception map, there is very little distinction among brands of the same product category in the TG(Test Group). But distinctiveness in brands is of crucial importance to the needs of the buyers. Considering these factors, the marketers should focus on building a distinct brand image in the consumers' psyche. The suggested Points of difference are: Alternate methods of brand engagement & Local relevance of the brand.

Advertisements offer limited opportunities for creating distinctiveness. Hence, alternative methods of promotion and brand engagement occasions should be created to establish a clear differentiation for the brand in the consumer's psyche.

Local relevance of the brand can also be achieved without compromising on the brand identity which is generally global or national in nature depending on the brand. Local celebrities, local events/festivals can be leveraged to add local relevance and a strong added source of distinctiveness to the brand image.

Ability to build network of customers

The biggest source of influence in apparel buying in the TG is friends as observed from the survey. Moreover, friends and popular classmates are often role models which the customers can relate to. Network effects, i.e. bandwagon and snob, exist in fashion and more so in apparel purchase. Hence, to penetrate non-metros exponentially, marketers need to build networks in the TG. Companies are not unaware of this. In fact, most youth brands like Levi's, offer a platform for its target users to interact and thus facilitate the network effects through their websites and stores.
Strategies for Individual Brands
Based on the current positioning of various brands and requirements of non-metro consumers, we suggest the following strategies for 4 major Indian apparel brands.
Peter England

Peter England is already well-entrenched in both metros and non-metros as an economy segment men's brand 4 . It is the preferred brand for youngsters entering the workforce. Peter England Elite is an attempt to move to the premium segment. However, in smaller cities it still has a potential customer base among high school and college students who buy formal shirts for special occasions, such as for presentations or interviews. The recommended strategy is that of market expansion by targeting new users. Though it is similar to line extension, the basic difference lies in targeting the customers. Peter England's "Honest Shirt" positioning for the young office-goers can be slightly extended through a sub-brand like "Peter England-Young Genius" to target students.

Levi's

Levi's currently operates in the premium and super-premium categories in India through its brands Levi's, Signature and Dockers 5 . The premium charged by the brands help them achieve high profitability but market share is limited and most buyers are from metros.

Based on the understanding of the market and the company, we recommend a line-extension strategy for Levi's to penetrate the non-metro markets exponentially. Line extension should be downward as the company lacks products at the 'value' range. Hence, the company should launch a sub-brand in the 'value' range.

Provogue

Provogue is a trend-setter brand in the Indian context. Its products span across all ranges of apparel and hence for further penetration to non-metros, product line expansion is not a feasible strategy. The only option that remains is to expand the market by geography.

The proposed strategy is along what Provogue has been doing for some time 6 . However, the concept of fashion pioneer can only be established by offering a separate brand experience to customers. Provogue Studios i.e. exclusive Provogue outlets offering uniqueness in experience.

Wills Lifestyle

The brand image of Wills Lifestyle was found to be similar to that of Provogue from the multidimensional scaling exercise. Wills lifestyle offers apparel and also has its exclusive stores of the same name. A difference between Provogue and Wills Lifestyle is that of distribution. Provogue sells through exclusive showrooms and stores such as Shopper's Stop and Westside whereas Wills Lifestyle operates from exclusive stores only.

Wills Lifestyle has recently started using the internet as an alternate channel for retailing 7 . The suggested strategy for Wills Lifestyle is to alter the distribution strategy to become more internet based. We observed in the previous discussion on Provogue that though geographic expansion is a long term solution, the cost of attaining it is prohibitive for an individual apparel marketer. Internet offers an alternate channel to expand to new markets without incurring too much fixed costs.
Conclusion
The study revealed certain important aspects of apparel purchase behavior among youth in the non-metro regions. Since, the markets in large metros are gradually getting saturated and cost of operation is on the rise due to higher wage demand and skyrocketing real estate prices, there is increased focus on expanding the markets to non-metros. The youth segment is influenced by popular culture and hence will be the easiest segment to gain a foothold in these markets. Apparel retail in India is poised to grow exponentially and a major portion of the growth story will be played out in non-metros. Helping the non-metro consumers overcome their psychological barrier would require capturing certain segments of these markets e.g. youth and gradually build upon that position to tap into other segments.
Keywords
India, Marketing, Consumer Goods (Apparel), Non-metro, Branded Apparel, Peter England, Levi's, Wills Lifestyle, Provogue
Contributors
Nagasimha Balakrishna Kanagal is an Associate Professor in the Marketing Area at IIM Bangalore. He holds a Ph D from University of Texas at Dallas, USA. He can be reached at kanagal@iimb.ernet.in
Chandan Kumar Behera (PGP 2009-11) holds a B.Tech from College and Engineering and Technology, Bhubaneshwar and can be reached at chandan.behera09@iimb.ernet.in
Satprem Mohanty (PGP 2009-11) holds a B.Tech from College and Engineering and Technology, Bhubaneshwar and can be reached at satprem.mohanty09@iimb.ernet.in
References
Euromonitor International: Jan 2010: Sector Capsule- Clothing and Footwear Specialist retailers, India
Euromonitor International, Oct 2009: Country Market Insights, India-Textile and Footwear
Malhotra, N. K, and Dash, S. Marketing Research, An Applied Orientation (5/e). Pearson India