PRINT
The Coffee Day Journey, Cup by Cup
This article aims to trace the growth trajectory of Amalgamated Bean Coffee Trading Company Ltd. (ABCTCL), a rapid growth firm and dissect the firm's strategies that have given it sustainable competitive advantage and thereby formulate factors for Rapid growth and sustainability. It also examines the capabilities and business processes of ABCTCL and critically assesses its sustenance in the wake of increasing competition from both domestic and international players.
Introduction
India, which has traditionally been a tea loving country, is currently one of the fastest growing coffee markets in the world with a domestic coffee consumption of about 97,000 tons in the year 2009 with an annual growth rate of 5-6%1. This is primarily attributable to the increasing trend of western-influenced coffee bars that have transformed Coffee from a predominantly South Indian beverage into an aspirational experiential good with an international appeal. The 8 billion dollar coffee retail business in India can potentially accommodate approximately 5000 cafes, with a current count of around 1500 cafes leaving the market open for various players to clamour for a share.
Rapid growth firms are a small subset of firms that grow at a rate much faster than the average annual rate of 3.5%. Spanning across newer industries with innovative product portfolios, these firms are an important stimulus to the economy and make a good study for logical deconstruction and formulation of factors for rapid growth. The specimen firm Amalgamated Bean Coffee Trading Company Ltd is one such rapid growth with an average growth rate of 10-12%.Founded in 1993 by V. G. Siddhartha, ABCTCL which started off as an exporter of coffee has gone on to become the largest coffee retail chain in India.
Indian Coffee Industry and Specialty Coffee Retailing – an Overview
India's shade-grown coffee is famous for its intriguing subtlety, mildness and intense aroma. Characterized by a mild, not too acidic flavour, the journey of Indian coffee began several hundred years ago when saint Bababudan brought seven coffee beans from Yemen and planted them in Chandragiri, Karnataka. Now, the main coffee types cultivated in India include washed and unwashed Arabica and Robusta, monsooned coffees, instant coffee, ground coffee, roasted seeds and specialty coffee. Specialty coffees are superior grades of coffees that differ from normal coffee due to their enhanced visual appeal and supreme taste. Specialist coffee chains in India grew at 45% exceeding $9Bn in revenue in 2008, with Amalgamated Bean company's coffee day leading the game with a market share of 34%, followed by Barista with 16% in the Cafe' segment.
About the Coffee Day Group
Amalgamated Bean Coffee Trading Company Ltd., better known as ABCTCL, is the largest and the only fully integrated Coffee retailer involved right from plantation to retailing to exports. The 'Coffee Day Group' pioneered the concept of cafés through 'Café Coffee Day', a chain of youth hangout coffee parlours with a current standing of 972 cafes spread across 142 cities in the country. ABCTCL currently has a range of businesses operating at different points in the coffee value chain, as described in Exhibit 1.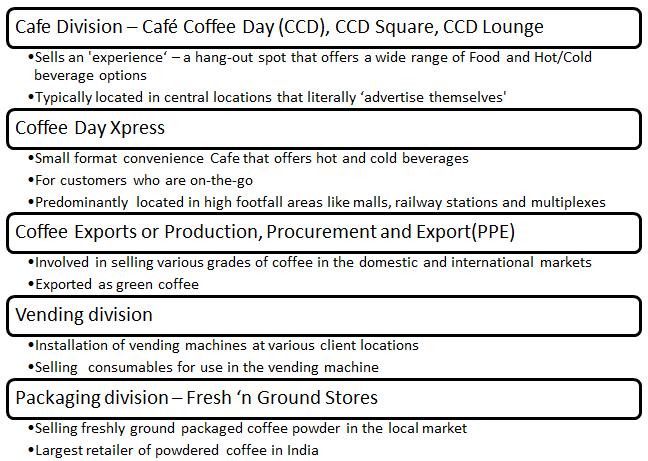 The Coffee Day Journey
Just as the origin of Coffee in India started with seven magical beans from Yemen, the entire ABCTCL's empire was inspired from a single plantation, the Shankara Kudege Coffee estate in Chikmagalur, bought in 1871 by the ancestors of VG Siddhartha. Although in the pre-1990s Coffee trading was a government monopoly, Siddhartha's strong intuitive optimism motivated him to buy coffee plantations in the hope of liberalization to come by. This pre-emptive strategy paid off when the country underwent Liberalization, Privatization and Globalization in 1991 and the Government eased FDI regulations. In 1993 the Amalgamated Bean Coffee Trading Company Ltd. was formed which focussed solely on coffee exports. In 1995, within just two years of inception, ABCTCL became the second largest coffee exporter from India.
In 1996, realising the limited growth opportunities in the B2B exports business, ABCTCL decided to enter the business-to-consumer (B2C) market in two major ways. It opened Fresh 'n Ground – the first 'neighbourhood coffee store' – in 1996 with the promise of selling freshly ground coffee, which today has a footfall of about 1 Lakh customers a day. Inspired by the Singaporean internet cafes that served beer, ABCTCL launched the first Cafe Coffee Day (CCD) in Brigade Road, Bangalore, in 1996. Bundling coffee with internet surfing proved to be a runaway success and gave CCD the first mover advantage into a segment that promised endless growth.
Until the year 2000, the growth in Cafe segment was rather slow (only 14 CCDs), as ABCTCL faced many technical glitches in scaling up this bundled offering. In late 2000, it took a bold move of disassociating itself from the internet service and focussed on launching full-fledged cafe targeted at the youth (15 to 30 year olds) cleverly positioning itself as 'a place, between home and work, to hang out with friends.' This considerably increased the expansion pace and by the year 2001, ABCTCL had 35 CCDs operational, predominantly in the four southern states. However, in 2001, Barista entered the Indian market in a big way opening about 80 stores by the end of the year. ABCTCL instantly switched to rapid expansion path, simultaneously building capabilities to facilitate its rapid growth, clearly explicated by the framework – the Growth Accelerators of Tigers2 – in Exhibit 2. CCD followed the Clustering mode of retail expansion, where over 10 CCD outlets populated a radius of say 2 km, closely interspersed with competitor Cafes.
The presence of competitors such as Barista led to Co-Category Creation. The combined efforts of both players resulted in increasing prevalence of Cafes and a growing consumer base. However, this also led to a coercive need to expand and CCD began to explore new formats of Cafe Retailing – arising from a rigorous market research based on 'Dwell Time'.
Thus, in 2002, the company launched a 'quick café' under the brand name CCD Xpress, which now has about 922 outlets in the country. The company also started International operations in 2005, launching its first cafe in Austria – the country with the highest Coffee consumption. ABCTCL acquired Emporio, of the Czech Republic in order to facilitate expansion in Eastern Europe, in June 20103 . These helped build economies of scale and attain cost-leadership status both in India and overseas. In its path to exploring newer CCD formats, ABCTCL launched CCD Square, a high-end fine dine hangout that offers a holistic coffee journey, in 2008, in Vittal Mallaya Road, Bangalore. It also started the CCD Lounge in 2010, at Koramangala, Bangalore, a Cafe that offers plated meals and a greater variety of Food and beverages.
What Makes ABCTCL Unique?
Over a period, ABCTCL has developed many unique capabilities across the coffee value chain. Exhibit 3 below lists these capabilities, in addition to some general trends specific to the coffee industry.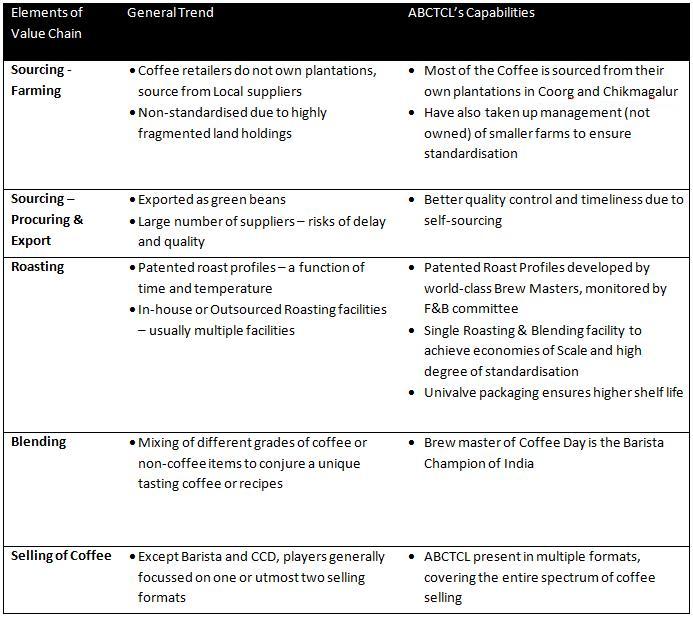 Challenges and Recommendations
This section focuses on certain key challenges identified during the study, and lists the recommendations for the company, based on the analysis.
Coping with competition from domestic players and entry of Foreign Players
In order to cope with increasing domestic competition, ABCTCL shall have to motivate and retain its best baristas and brew masters. This would require continuous heavy investment in building and supporting the company's, existing supply chain capabilities. Advertising the brand through various online communities and an additional effort to ramp up the company's real estate capabilities to scout for premium locations in the developing regions of tier-2 and tier-3 cities would be essential to stave away competition.
Internationalization into newer markets
The coloured lines in Exhibit 4 shows the different strategies that firms can adopt for going international. The bold blue lines highlight ABCTCL's internationalization strategy. Point 'A' shows where ABCTCL started when it launched its first Cafe. ABCTCL concentrated entirely on category creation. Over the next few years as it developed more capabilities and strengthened its operations ABCTCL looked to develop a full line of products to cater to every segment (point 'B'). It was after this that ABCTCL looked to go global (point 'C').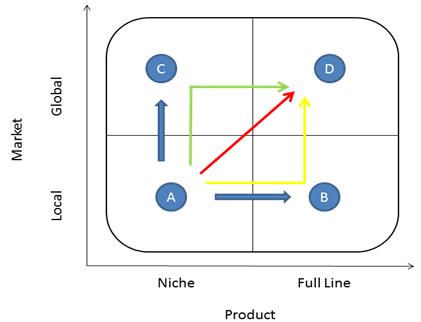 The approach that ABCTCL has employed for internationalization has served the company well, but they shall have to monitor a few important issues in order to sustain the growth.
Some amount of customization, based on the operating region, can help the company gain more acceptance
With Starbucks at the doorsteps and other chains like Costa Coffee rapidly expanding in the Indian market, ABCTCL must take adequate steps to defend their market share in India
Given the huge domestic market for its product range and a presence across the entire value chain will ensure that the company remains cash rich
ABCTCL should examine factors such as coffee consumption patterns, scope for growth and the intensity of competition in the destination country (e.g. expansion in Vienna, Austria which has the highest per capita consumption and the recent acquisition of Emporio4 in Czech Republic to expand in the eastern European market which is expected to grow rapidly but faces very little competition)
Sustaining Rapid growth in a dynamic industry
The reinforcing feedback loop also fuels the growth for ABCTCL, as shown in Exhibit 5. Production of Coffee leads to export and selling, which gives way to new category creation, i.e. introduction of café segment, which opened the market to new set of customers and in turn increased the demand for Coffee production. This pattern of reinforcing loops, called 'Growth Cycles', converge on a customer base driving the growth of businesses pursuing "new games" strategies.
Balancing Standardization vs. Localisation
Creating a more customized menu for its customers in terms of identifying slight differences in taste preferences across the country will help the company effectively compete with local brands, and differentiate itself from global/national majors. For example, coffee drinkers in South India prefer a stronger flavour in their coffee when compared to those in the rest of India. ABCTCL could incorporate this by offering their traditional coffee (e.g. a Cappuccino) in the form of three variants – light, regular and strong. It could also introduce different size of serving for its coffee (e.g. small, regular and large). By doing this ABCTCL signals to its customers that it understands its coffee drinkers and their preferences.
Adapting to changing consumer needs
A study by the Coffee Board of India indicates that there exists an Opportunity area – Offices and Colleges segment – that have a low penetration yet high frequency of consumption. Thus, Coffee Day can focus on further increasing its presence in corporate premises and university campuses. Besides this, ABCTCL should also look to maximize its growth in newer segments like highway cafés and health resorts. Investments in technologies (such as blast freezing food products, temperature controlled vehicles etc) to support such formats have already been undertaken and the company should look to leverage its advancements to feed these formats. Experimenting with flavoured coffee or medicated tea is another way of increasing variety offered to the customers.
Identifying white spaces in the industry
In order to sustain profits and rapid growth in the years to come, ABCTCL should efficiently explore White space opportunities, identify Profit Pools and formulate Growth Platforms, as described by the Sustainability Model6 . Identifying White Space opportunities requires constant scanning of market along three dimensions – context, customer and competition – in order to identify the prospective growth opportunity. Identifying pockets of growth and profit in the company's portfolio and harvesting or investing in the chosen ones that display promise of greater returns. Profit Pools for ABCTCL are currently the Cafe Division and Xpress division. The identification, selection and prioritization of growth platforms based on existing capabilities are important. Existing growth platforms for ABCTCL are its rapidly growing Vending Division and Xpress division.
Conclusion
There are several reasons that helped ABCTCL achieve rapid growth. Firstly, pursuing "New Games", for instance the introduction of the Cafe experience in India and other new formats created new markets. ABCTCL pre-empted competitive forces and intuitively entered and created new segments, thus emerging an undisputed market leader. Secondly, entering a new segment can lead to success, only when backed up by adequate capabilities and competencies. ABCTCL's vertically integrated structure is its key strength, the backward integration helped in Rapid Growth, while the forward integration supported Category Creation. Finally, sustaining the market victories both by constant innovation and adaptation, as well as by improvising the Business Systems is essential in ensuring future growth and profitability.
Keywords
Strategy, Rapid Growth, Sustainability, Cafe Coffee Day
Contributors
R. Srinivasan is an Associate Professor in the area of Corporate Strategy and Policy at the Indian Institute of Management, Bangalore. He holds a FPM from IIM Ahmedabad. He can be reached at srini@iimb.ernet.in
S. Archana (PGP 2009-11) holds a B.E from Vellore Institute of Technology, Vellore. She can be reached at archana.s09@iimb.ernet.in
Kunal Bhagat (PGP 2009-11) holds a B.E from Vellore Institute of Technology, Vellore. He can be reached at kunal.bhagat09@iimb.ernet.in
References
http://www.hawaiifruit.net/E09MXMAKAI_Appendix4_CoffeeAnnual2010.pdf, Last accessed 02/08/10
The Paradox of Fast Growth Tigers, The Mckinsey Quarterly, 1995
http://www.thehindubusinessline.com/2010/06/02/stories/2010060252380500.html, Last accessed on 01/07/10
http://www.thehindubusinessline.com/2010/06/02/stories/2010060252380500.html, Last accessed on 01/07/10
The Paradox of Fast Growth Tigers, The Mckinsey Quarterly, 1995
"Future and Innovation – How to sustain profitable growth", Accenture, Outlook 2007