PRINT
Navneet Publications - Adapting to Changes in the Indian Book Publishing Industry
The Indian book publishing industry is very attractive and has a high growth potential, but is operating in an extremely competitive market, with over 16,000 largely small publishers spread across the country. With the Indian economy and the education sector booming, the industry is at a new juncture of growth and competition. This article analyses the current position of Navneet Publications, a veteran in the Indian education space and recommends a growth path for Navneet, keeping in line with the current trends in the book publishing industry.
As of 2007, the Indian book publishing industry was estimated to have a market size of about Rs. 9000 crores and was expected to grow by 10% each year. The industry is highly fragmented and competitive in nature, with over 16,000 publishing houses and each of them having a market share not greater than 5%. Most of these publishing houses are family owned businesses, having passed on from one generation to the next.
Around 80,000 new titles in 24 different languages are published every year in India. The country is the 7th largest book publisher in the world and is the 3rd largest English language books market in the world after the U.S and U.K. However, it has a very low per capita expenditure per annum on books of Rs. 80 as compared to Rs. 4000 in U.K. 1
Segmentation and Key Players
The book publishing market can be segmented according to the type of books – School level, Higher education/Technical, General/Self help and Fictional/Non-Fictional - and the price point at which the players are perceived to be present in the market.
Several players in the industry have a national presence – the prominent ones being Penguin Books India, Oriental Longman, Rupa Publications, McMillan, S Chand, Navneet and Parragon. Most of these players have established their positions across only a few types and price points as shown in Exhibit 1 below.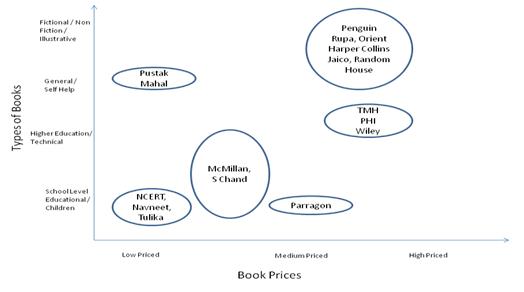 Market Attractiveness
Overall market attractiveness 2 of the Indian book publishing industry is very high. This is due to strong market growth, supportive government policies, low supplier and buyer power, low rivalry and high industry margins. However, the industry faces threats from new entrants owing to low barriers to entry. The rise of substitutes like e-books and online education will be a serious threat in the years to come. Any player aiming to gain a sustainable competitive advantage in the industry needs to create a strong brand to increase barriers to entry and at the same time needs to formulate strategies to combat the threat of substitutes.
We now explore the various dynamics and characteristics of the book publishing industry in India.
Key Insights about the Book Publishing Industry
Two stark aspects of the book publishing industry are as follows:
Pull driven: In a book publishing industry, it is the consumer who demands the books for his or her needs. Marketers cannot push a customer to read a book; the consumer decides what he/she will read. Owing to this, the industry is highly price inelastic and provides a good margin for every player in the value chain. This further ensures that there is enough room for the new entrants and no price competition.
Value-addition by Publishers: A look at where the money flows in a value chain, as seen in Exhibit 2 and Exhibit 3, shows that over 55% of the value is added by the publisher, but only 12.5% of it is captured as profits. The maximum profits are reaped by the retailers who, in most cases, bear the risk of sale. Thus, the publishers run a stable, low-risk business.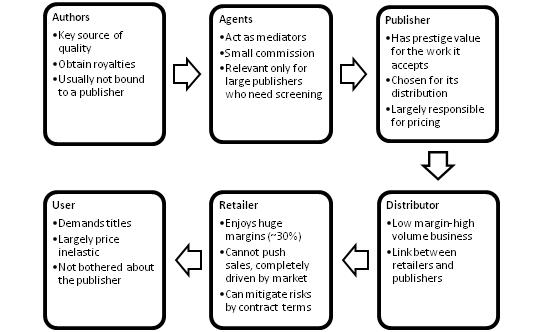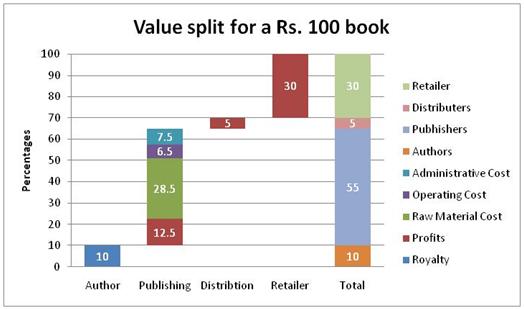 Market Driving Forces
Three key forces drive the growth of book publishing industry in India:
High Attractiveness: High and sustainable margins for all the players in the value chain ensures that each player gets his own rightful share in the value chain, prompting and motivating them to stay and grow in the value chain.
High Potential: With the literacy rate going up, along with the growth of the economy and the increase in spending power, the demand for books is also on the rise, thereby resulting in high growth for the industry too. There is a huge untapped potential in India because these factors are only bound to become more favourable in the future, and drive the growth of the industry.
Protection from economic shocks: Books are commodities for the education industry. Since the education industry is protected from any economic shocks (recessions/slowdown etc), the book publishing industry also gets an automatic shield against such shocks.
Having understood the structure of the book publishing industry, we now analyze the current position of Navneet Publication vis-à-vis the industry.
Navneet Publications
Navneet, established in 1959, is in the business of educational and children book publishing, and own over 5000 titles in English, Hindi, Marathi, Gujarati and some foreign languages. Over the years, the company has ventured into scholastic paper stationery and non-paper stationery products, and is now one of the largest stationery brands in India. The company currently has two streams of businesses – Publications, accounting for 65% of the total annual sales, and Stationery, providing around 35%. Lately, Navneet has been strongly pursuing the growth of its stationery business in India. 3
A financial analysis of Navneet Publications reveals that the two businesses – Publications and Stationery show a stark contrast in terms of the returns they provide to the shareholders. Stationery business has seen dipping profits owing to the high raw material costs, whereas the publishing business's sales and profits are registering strong growth. A high profit margin combined with a good asset turnover ratio takes the RoE for publications to 38%, as compared to 13% for stationery for the FY08. 4
SWOT Analysis
Navneet's strengths lie in its brand name in school level educational books, its stronghold in Gujarat and Maharashtra and in economy of scale, allowing it to compete as a low cost leader in the industry. However, its business suffers major weaknesses in two areas: weak national brand and syllabus dependency. Navneet doesn't have a strong brand recall outside Maharashtra and Gujarat and owing to this weakness it faces the threat of entry of new players in school books segment. Also, Navneet's business has high dependency on syllabus revisions by the central and state boards. Every time the syllabus is revised Navneet sees good growth that moderates over the ensuing years. The major opportunity before Navneet is that the National Council of Education Research and Training (NCERT) has given the private players the opportunity to publish prescribed school books. Navneet faces the threats of rising and fluctuating raw materials costs (especially paper), entry of new players in school book publishing and emergence of substitutes like electronic content education.
A look at Navneet's SWOT analysis justifies its strategy to position itself as a focused cost leader in school educational books segment as seen in Exhibit 4.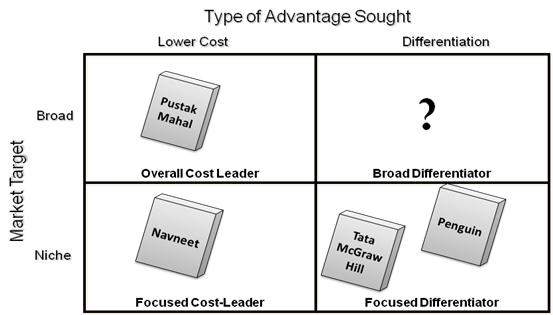 From a resource-based point of view , all of the resources and capabilities being possessed presently by Navneet i.e. low cost production and brand name give it sustainable competitive advantage. However, Navneet's strategy should include measures for preservation of these resources.
Given the above analysis the following options can be taken up by Navneet to expand with the growth in the Indian publishing industry.
Recommendations for Navneet
As elucidated earlier, Navneet has two strategic business units – stationery and publication. Hence, it has the choice of expanding in either one or both of them. Besides, given its current positioning as a cost leader it can expand by following a differentiation strategy or continuing with its current competency.
Stationery or Publication?
On comparing the financials of the two businesses (Exhibit 5), it is seen that the publication business emerges as the breadwinner for Navneet and would continue to so in the near future. Though Navneet is pursuing stationery business aggressively (probably to lower its risk profile or be the first mover in the unorganized stationery industry), from a long-term sustainability point of view, the publications segment offers promising growth in a low-penetrated market. The industry has high profit margins, which, even after accounting for entry of new players in education segment, would be significantly higher than the stationery business.
Under such low penetration conditions, Navneet should build its brand geographically across India, aim at regional expansion and move into vernacular languages in new states.
Move on the price or category axis?
In line with the industry changes – should Navneet expand into different book types (higher educational, general/self-help) or increase price perception, or do both or none? A comparative analysis based on Navneet's core competencies suggests that Navneet should maintain focused cost-leadership and be recognized for their excellence in educational books for the mass market. There are huge opportunities for growth in the current market and Navneet should continue doing what they are best at, and consolidate their position.
A long-term growth path for Navneet would be to venture into the higher education segment , which is fast-growing in India and where Navneet can demand higher prices. However, entry into this segment would require Navneet to first establish itself as a national leader in secondary education, which will help them gain enough credibility to have expert authors writing for them.
Management of Threats
Immediate threats that Navneet faces are fluctuating raw material costs, syllabus dependency and potential entrants. To reduce raw material costs, Navneet can get into a forward contract with suppliers to buy raw material at lower and assured prices. It can also increase its raw material inventory levels to reduce variations in its cost of goods sold.
Navneet can reduce its syllabus dependency by being the agents of change. A syllabus change can be used as an opportunity by Navneet. Navneet can create a forum of eminent teachers across top private schools to recommend syllabus changes annually and recommend books to schools. The curriculum and books used by top schools become a model for other schools in the region and Navneet can gain immensely from such effects.
Through brand building, increased geographical presence and networking with schools and teachers, Navneet can create significant entry barriers to fight any new entrants in its domain.
Conclusion
Navneet Publication has a great opportunity in store for it in one of its well established business units – book publishing business. The growth story of this industry is far from over and Navneet can emerge as one of the superpowers in the educational segment by maintaining its focus on this business and creating a brand synonymous with education for mass market, thus carving out a comfortable space for itself in this highly competitive industry.
Keywords
Indian book publishing industry; Publication; Navneet; Educational books; Value chain; Segmentation; Industry changes
Contributors
Naorem Johney Adamson(PGP 2008-2010) holds a B.Tech + MBA degree in Information Technology from Indian Institute of Information Technology and Management, Gwalior and can be reached at naoremja@iimb.ernet.in
Mayank Jha(PGP 2008-2010) holds a B.Tech degree in Chemical Engineering from Indian Institute of Technology, Bombay and can be reached at mayankjh@iimb.ernet.in
Talimeren Longkumer(PGP 2008-2010) holds a B.E. degree in Computer Science from Government College of Technology, Coimbatore and can be reached at talimerenl08@iimb.ernet.in
Sher Singh Meena(PGP 2008-2010) holds a B.Tech degree in Computer Science from Indian Institute of Technology, Roorkee and can be reached at shers08@iimb.ernet.in
Amit Soni(PGP 2008-2010) holds a B.E. degree in Computer Science from Netaji Subhas Institute of Technology, Delhi and can be reached at amits08@iimb.ernet.in amits08@iimb.ernet.in
This article is drafted from the student project done under the guidance of Prof.Rejie George Palathitta ,Assistant Professor in the Corporate Strategy & Policy Area at IIM Bangalore.
References
1 Publishing Market Profile Report – India, Global Publishing Information, United Kingdom, 2008
2 Barney, Jay B, Gaining and sustaining competitive advantage Second Edition, Pearson Education Inc, 2008
3 Navneet Publications (India) Ltd, http://www.navneet.com/index.asp , Last Accessed on March 22, 2009
4 Navneet Publications Annual Reports and Financial Results, 2004- 2009, http://www.navneet.com/corporate/mediareleases/anuualreports.asp , Last Accessed on March 22, 2009 Financial Results Analysis – Navneet Publications: SKP Research, http://www.valuenotes.com/skp/skp_Navneet_08Aug08.pdf , Last Accessed on March 22, 2009 Navneet Publication Financials, http://www.indiainfoline.com/company/boardofdir.asp?lmn=4&ltnum=38&FinCode=108989 , Last Accessed on March 22, 2009
5 Ghemawat, Pankaj, Strategy and the Business Landscape Second Edition, Pearson Education Inc,2008