PRINT
Brand management : The Kingfisher Airlines Saga
The Kingfisher brand has always been associated with glamour, vibrancy and lifestyle. When the premium airlines player made a move to acquire the largest low cost carrier in India, there seemed to be a clear mismatch between the two brands. However, Kingfisher Red had recently been displaced by Indigo Airlines as the preferred low cost carrier for Indian customers. This article aims to understand the reason for this step down even as it characterizes the needs of an air traveler. It also examines whether Kingfisher was right in straddling itself along the economy-luxury axis and the parameters it would have to meet to regain lost ground.
Owned by India's biggest liquor baron, Mr. Vijay Mallya, Kingfisher Airlines (KFA) is one of the finest luxury airlines of India1. Based in Bangalore, the Kingfisher Airlines started operations in May 2005 as a wholly owned subsidiary of the United Breweries Holdings Limited. It entered the Indian aviation market at a time when the low cost service model had galvanized the market and made air-travel accessible to the Indian middle class.
KFA today offers three unique classes of service -Kingfisher First, Kingfisher Class and Kingfisher Red2. Kingfisher First is the business class service of KFA focused on business class passengers who are willing to spend for premium services. Kingfisher Class is the aspirational premium economy service of KFA focused on the growing middle-class that is trendy, savvy and upwardly mobile. Kingfisher Red is the low fare service of KFA focused on the growing middle class who are price conscious. KFA has carved a distinct position for itself by its flamboyant lifestyle image and by offering a great flying experience with comfort seating, personalized entertainment and services to its passengers. KFA has adopted a plethora of marketing strategies since its inception and continues to do so in its growth stage. Its marketing efforts aimed at building a distinct brand image for KFA play a huge role in the success of the airlines.
This article delves into the merger of Air Deccan and Kingfisher, in order to comprehend how Kingfisher managed its brand and seamlessly incorporated a low cost carrier in its kitty of premium airlines. A survey has been conducted to identify the psychology of economy travelers and how Kingfisher Red has fared on the parameters that had been cited by the sample. Taking off from the primary research, the article identifies certain approaches that KFA must take up going forward, in order to ensure that they remain leaders in air travel.
Branding Kingfisher
KFA is a pioneer in the concept of bringing luxury, glamour and lifestyle to the skies3. The brand image of the parent Kingfisher brand gave further credibility to its marketing campaigns, featuring India's then top models. Kingfisher airlines sold the concept of lifestyle through its glamorous airhostesses, red-the color of vibrancy, and added hospitality which made every passenger feel like a guest on board-a-craft. It marketed itself as a budget airline targeting the middle of the market. It used multiple promotional campaigns, from having India's top model Yana Gupta on flight, to schemes on discounted tickets, initially, to invite people to experience the 'good flying' concept. Some of these initiatives have been summarized in Exhibit 1.
However, the airlines industry soon entered a phase of consolidation with mergers like Jet- Air Sahara and Indian Airlines-Air India. This eroded the KFA value offering. Unfazed, Kingfisher evolved into a full-fledged carrier and continued to pursue aggressive marketing strategies, sometimes even entering into advertisement wars with its competitors. At the same time, the Indian economy started to boom and the airlines industry entered a phase of unprecedented growth. This launched KFA in to its growth phase.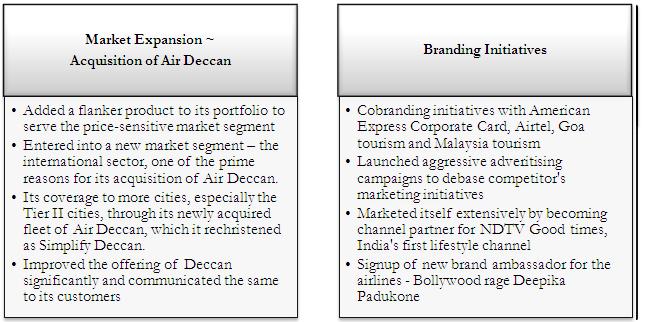 From Air Deccan to Simplify Deccan to Kingfisher Red and Beyond
We are from different planets, he is from Venus, I from Mars
Captain Gopinath on Vijay Mallya
KFA, on its merger with Air Deccan, retained the name 'Deccan' in the new entity because of its tremendous recall value in the LCC segment; hence the tag 'Simplify Deccan'. Instead, had they directly changed the name to Kingfisher Red, it may have eroded the 'loyal' customer base that Air Deccan enjoyed due to its 'emotional connect' with its customers. At the same time, KFA changed the logo to the Kingfisher bird5 depicting vibrancy and activity. Kingfisher's red and white replaced Deccan's yellow and blue.
After a period of ten months, when Kingfisher had established the fact that people could associate 'Simplifly Deccan' with Kingfisher by means of the image makeover of the former's crew and fleet, Simplifly Deccan was rebranded to Kingfisher Red6, eliminating the Deccan name altogether, and establishing the movement of the airline towards the Kingfisher 'flying experience'7. While Simplify Deccan was a no-frills low cost carrier, Kingfisher Red highlighted the 'delight of flying' in spite of offering low fares, keeping up Kingfisher's brand promise. Kingfisher Red offered new features like web check-in, in-flight reading material, and frequent flier programs8.
KFA is all set to redefine the low cost carrier (LCC) segment by using Kingfisher Red as a flanker brand. An exhaustive market survey done by Kingfisher revealed that an average flier even in the low cost segment expects certain basic services. Kingfisher Red is positioned between a low cost and full service carrier. It is the only airline that offers additional services compared to other traditional low cost carriers and yet economical compared to full service carriers. Kingfisher Red has carved for itself a straddle position: low fare flying with the experience of a premium one - a premium low cost carrier as it proudly calls itself. It hopes to foster loyalty amongst its customers through such positioning.
Of late, Kingfisher is offering free wholesome Indian meals on its flights9, a move aimed to regain its lost market share from Indigo, which recently replaced Kingfisher Red at the top. The remainder of this article analyses Kingfisher's strategic positioning and raises some pertinent questions, the answers to which point out the shortcomings in the management's strategy. In order to corroborate and give credence to our analysis and to capture more opinions, we conducted an opinion survey of 50 people to understand the consumer psychology for the airlines industry and appreciate the way ahead for the airlines.
(i) Has Kingfisher Successfully Understood Customer Needs?
A typical LCC customer would have certain basic needs: economy, convenience, comfort and luxury. The fact that the customer chooses a LCC indicates one's sensitivity to price and hence economy seems to be the first basic need. This is followed by a need for convenience, which would translate into wants like punctuality, appropriate baggage handling etc. Following this is a need for comfort, which includes in-flight reading material, food etc. that Kingfisher Red offers. And finally luxury, which would comprise the entire set of value added services like personalized entertainment that KFA (Class & First) provides. Perhaps, akin to the "Maslow's hierarchy of needs" concept, the higher order need might appeal only when the lower order one has been satisfied.
(ii) Has it Ignored Points of Parity and Given Too much Importance to Points of Difference?
While Kingfisher Red has focused on higher order needs of the customer, it has ignored the lower order needs of the customer like economy and punctuality.
The Points of Parity comprise basic services like scheduling, connectivity, cleanliness, low price (especially) whereas Kingfisher Red's point of difference is clearly the comfort and the delight experience that the airline highlights. While Kingfisher Red has focused on services like tele-booking, free food etc, it has ignored the lower order needs of the customer like economy and punctuality.
The survey clearly shows that people expect basic services from Kingfisher like cheaper tickets and adherence to schedules before facilities like free food. Indigo is the most preferred choice of consumers in the LCC segment because it delivers extremely well on the price and punctuality dimensions. In Kingfisher Red's case, the key to positioning now remains not so much in highlighting the points of difference as much in focusing on the points of parity.
(iii) How Sustainable is the Concept of Premium Low Cost Carrier?
Costs increase in proportion to the services offered. The model of an increasing number of value added services along with low prices seems like a 'best-of-both-worlds' that might be difficult to sustain. Hence, any addition of value-added services would further erode the value of the airline with respect to the prices that it can offer.
Taking the case of meals on the airline, a meal increases the price of a ticket by 300 - 400 INR. Is the price-sensitive consumer ready to bear this for getting a 'free' meal? With the LCC customer being most concerned about price than any other dimension of value-added services, increasing fares in order to offer a not-much-sought-after 'free' meal may not be the best move. Perhaps the Spicejet model of selling food on-flight is a better answer, as it enables the airline to cater to the needs of both the classes of customers, those who value economy and those who don't mind paying an extra buck for grub.
(iv) How does Kingfisher Red's Promise Impact Customer Satisfaction?
With the Kingfisher Red campaign emphasizing the shift towards the spirit of 'good flying', customer expectations might be raised to the level of the experience that Kingfisher Class offers. This would lead to dissatisfaction when the customer flies Kingfisher Red, as his experience would not live up to his expectations. This is so since Kingfisher Red is not even remotely close to the lifestyle advantage offered by Kingfisher Class. Hence it might be better for the promotional campaigns of Kingfisher Red to highlight only what one can realistically expect of Kingfisher Red. At the same time, there should be campaigns for Kingfisher First and Kingfisher Class that accentuate the flamboyancy and luxury offerings.
(v) Is Kingfisher Red a Threat to the Kingfisher's Brand Identity?
With Kingfisher Red not really gelling in with the entire Kingfisher portfolio of products and services, the frugality of the brand may impact the brand equity of Kingfisher. After all, Kingfisher Red has tried to match up to Kingfisher in a number of stark areas, for example, the color red itself. Would it have helped to not associate the color Red with the Kingfisher Red and create a distinct image?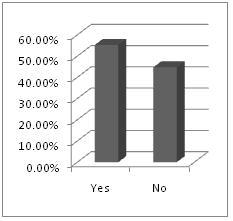 From the results of the primary survey summarized in Exhibit 4, 55%+ of people say that there is confusion between the brands Kingfisher and Kingfisher Red. The word association tests that were carried out on the respondents indicate that "Red" is the first word that comes to one's mind when Kingfisher Airlines is mentioned (Exhibit 5).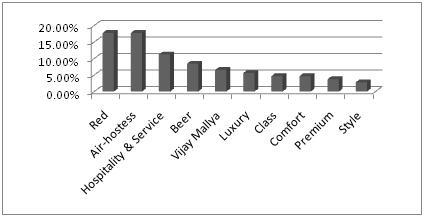 It may have been worthwhile to not donate the highest recall factor of Kingfisher to its flanker brand's name in the first place. However, having already undergone rebranding twice, it wouldn't be wise to rebrand Kingfisher Red yet again. Instead, Kingfisher could focus on the promotional campaigns which had been described earlier to distinguish between Kingfisher and Kingfisher Red.
(vi) Has Kingfisher Factored in the 'Brand Loyalty' that Operates in this Segment?
Delving into consumer psychology, it seems that once a passenger has a pleasant experience with a particular LCC and develops an image of reliability, he/she prefers to stick to the LCC. Taking an example from our survey, if a person has a built a good impression of Spicejet, he would prefer to travel by Spicejet again, even if there are seats available in other LCCs within a similar price band. The person switches only when there is no flight from Spicejet at his convenient time of departure.
Therefore, there exists a strong case for Kingfisher to cash in on this brand loyalty found in LCC segment. For this to happen, it must first fix the points of dissatisfaction like punctuality and safety concerns. Once these concerns are addressed, people will tend to stick to Kingfisher Red. Exhibit 6 graphically denotes the reasons why Kingfisher Red has failed to deliver on its promises.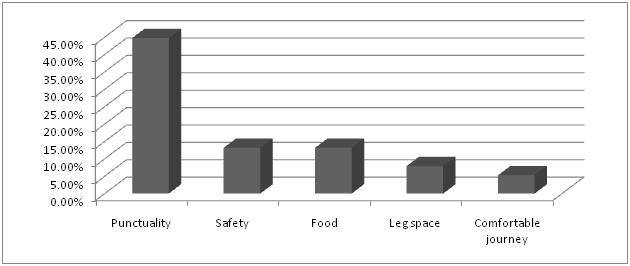 (vii) Is Kingfisher's Current Positioning and Market Coverage a Source of Competitive Advantage?
With the introduction of Kingfisher Red, Kingfisher has 3 product offerings: premium business, premium economy and premium low cost. Kingfisher's offerings span the entire market. Such a strategy is generally not a very good one, as it does not send out a very clear positioning message and may only serve to drive away customers from both ends of the market segment, instead of serving both.
However, in the current scenario, at a time when the future of the aviation industry is uncertain, this very positioning and market coverage may be the best thing to do. It becomes a source of competitive advantage as it gives Kingfisher the flexibility to consolidate its position, if need be, in any direction depending on the future course of the industry. Also, in future, Kingfisher would have high flexibility to change its product mix amongst the three classes contingent on segment attractiveness and changing customer wants.
The Way Ahead for the King of Good Times
Kingfisher Airlines should focus on bridging its 'points-of-parity' before enhancing its points of differences. It must improve its performance on key parameters like punctuality & air fares and should not introduce points of differences which increase the air fare of Kingfisher Red. KFA should consider implementing a promotional campaign in mass media which educates people about Kingfisher & Kingfisher Red. While Kingfisher can continue with flashy ads featuring models depicting exuberance and lifestyle, Kingfisher Red ads can be more subtle focusing on safety, comfort & experience. It can be along the lines of "Queen of your heart deserves to fly like one" campaign10 which Kingfisher launched in December 2007, which focused on emphasizing a comfortable journey for women. The idea is amalgamate the two ends of the spectrum, to keep the consolidated identify of Kingfisher, while clearly spelling out to customers the differences between its premium and budget classes.
Authors
Prof. Mithileshwar Jha is a Professor in the Marketing area at IIM Bangalore. He obtained his Fellowship Programme in Management and his Post Graduate Diploma in Management (Agriculture) from the Indian Institute of Ahemedabad. He can be reached at mjha@iimb.ernet.in
Arun Subramoniam (PGP 2008-10) holds a B. Tech. Degree in Electronics and Communication Engineering from National Institute of Technology (NIT) Trichy and can be reached at arun.subramoniam08@iimb.ernet.in
Geraj Vinny Rajesh (PGP 2008-10) a B. Tech. in Information Technology from Velammal Engineering College, Chennai and can be reached at geraj.vinny08@iimb.ernet.in
Monomita Roy (PGP 2008-10) holds a B. Tech. in Mechanical Engineering from Indian Institute of Technology Kanpur and can be reached at monomita.roy08@iimb.ernet.in
Ravi Parimi (PGP 2008-10) holds a BE (Hons) in Chemical Engineering from BITS Pilani and can be reached at ravi.parimi08@iimb.ernet.in
Sundar Rajan G.S (PGP 2008-10) a B. Tech. in Computer Science Engineering from National Institute of Technology (NIT) Trichy and can be reached at sundar.rajan08@iimb.ernet.in
Keywords
Strategy, Automotives, Tata Motors, Globalization, India, Light Commercial Vehicles, Medium & Heavy Commercial Vehicles
References