PRINT
From Follower to Market Leader: Strategic Recommendations for Bajaj Auto Ltd.
In a competitive environment, a substantial amount of the management's focus is directed at establishing their companies as the market leaders. In a concentrated industry where 3-4 major players enjoy a large market share, such a problem becomes even more important. This article attempts to identify the right strategy that competitors should adopt to become market leaders, by taking the case of India's two wheeler industry. The recommendations are based on the analysis of Bajaj Auto Ltd's strategy in the last few years.
Bajaj Auto is one of the oldest and the second largest two wheeler manufacutrer in India. In addition to coping with fierce competition from other players in the two wheeler segment, it also has to protect its market share from the impending onslaught of low price small cars such as Tata Nano. Holding on to its postion in such a challenging market environment requires innovative strategies and deep understanding of consumers needs. The article analyses the two wheeler market in India and Bajaj's positioning therein. Based on the analysis, the article proposes the strategic options available to Bajaj.
Two Wheeler Industry: An Overview
The Indian two-wheeler industry has witnessed spectacular growth in the last few years. The market dynamics of the industry has substantially changed with a majority of the customers preferring bikes to scooters and mopeds. This is primarily due to better fuel efficiencies, dynamics, looks and longer product lives of motorcycles.
The motorcycle segment constitutes about 81.5% of the two wheeler market in India1. It also contributes to three-fourths of the total exports in the two wheeler industry. Exhibit 1 shows that Bajaj is the second largest player in this segment after Hero Honda.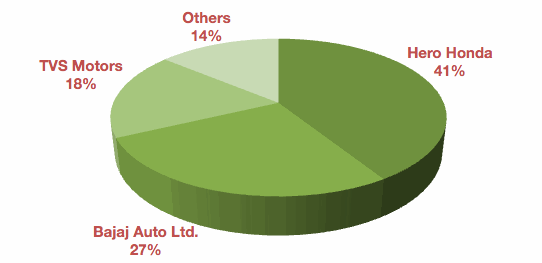 The industry exhibits some degree of collusive behaviour and thus represents an oligopolistic form of market structure. Product and brand differentiation are seen as the primary means of sustaining competitive advantage. In order to sustain brand equity, players spend large percentages of their revenues in advertising and brand building activities. The supply and distribution networks are decisive factors in staying competitive and normally need a huge capital investment.
The two wheeler industry is capital intensive with large fixed cost requirements and new model introductions mandatory at frequent intervals in order to sustain the demand. This involves substantial design and R&D costs. Such high fixed costs can be offset only by achieving economies of scale. Moreover, developing a distribution channel is extremely difficult in a country like India. Therefore, it is difficult for a new player to enter this industry.
Demand and Growth Drivers
The following factors play a major role in increasing the demand for two wheelers in India.
Personal Income, demography and penetration level are key growth drivers in the two wheeler industry.
Personal Income
Demand increases as the income increases, only to be substituted later by the demand for four wheelers. Income has been steadily growing in India and is projected to stabilise at a growth rate of 9-12 percent range by 20122.
Demography and Inspiration
The bigger the young and working population, the greater is its need for commutation. The IT and BPO revolution has influenced this movement. This is a favourable factor since India's workforce is young.
Penetration Level
The lower the penetration levels in the market, the better the scope for future demand. As the penetration of the rural market is significantly low, it is going to be a significant long term growth driver.
Other Factors
Improvement in infrastructure increases competition, while simultaneously improving the public transport. The average time period taken to replace an existing bike with a newer model has decreased from 7 years to 5 years, resulting in replacement demand growth.
Problems in the Two Wheeler Industry - Negative Growth
Negative growth is the major problem being faced by companies in the two wheeler industry. The two wheeler industry has been shrinking continuously3. From a peak of over 40% growth in 2002 it is currently facing a growth of -12% in the second quarter of 2008. Exhibit 2 shows the recent trends.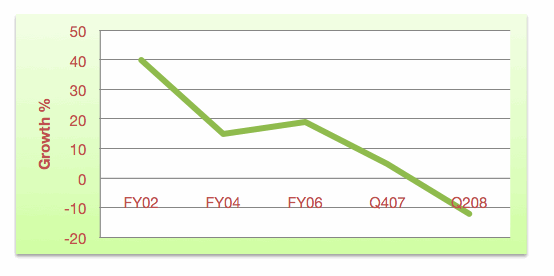 Analysis of the different segments leads us to the conclusion that the main reason for negative growth in the two wheeler market is the fall in demand for the 100 cc segment which has traditionally enjoyed the maximum market share as shown in Exhibit3.
| | FY06 | 9M/07 | Q4/07 | Q1/08 | Q2/08 |
| --- | --- | --- | --- | --- | --- |
| Motorcycles | 19% | 18% | 4% | -10% | -12% |
| 100cc | 7% | 14% | -12% | -20% | -23% |
| 125cc | 121% | 31% | 71% | 10% | 11% |
| 150cc | 29% | 22% | 43% | 28% | 22% |
Many factors have contributed to this phenomenon. A few of them are discussed ahead.
Interest Rates
Interest rates are one of the prime reasons for the sharp fall in demand. Many banks have increased interest rates which make two wheelers costlier.
Credit Crunch
Difficulty in availing loans, rising defaults, tightening of loan recovery laws and various other factors have dissuaded consumers from availing loans and led to further problems in credit lending.
Oil Prices
Increasing oil prices have deterred many lower middle class families from buying two wheelers.
Launch of Low Priced Cars Like Tata Nano
Introduction of low priced cars will directly affect the market. The family segment would want to gradually move from two wheelers to four wheelers. The major impact of this phenomenon would be experienced in the 100-125 cc two wheelers whereas the performance segment i.e. > 125cc will continue to grow strongly.
Tightening Regulations (Emission Standards)
With the introduction of the Bharat-4 norms, it will be more challenging to meet these stringent norms whilst simultaneously offering competitive prices.
In spite of these factors, demand drivers are present for the foreseeable future and are favourable for the two wheeler industry. However, to capture this growth, any player will have to correctly position itself to appeal to the consumer.
Positioning of Bajaj Auto in the Two Wheeler Industry
Bajaj Auto is the flagship company of the Bajaj Group of Companies. Bajaj Auto Limited (BAL) is currently India's second largest two wheeler and three wheeler manufacturer. The core competency of Bajaj Auto Ltd is its technology and innovation. Both DTS-i (Digital Twin Spark Ignition) and DTS-Fi (Digital Twin Spark Fuel Ignition) are technological breakthroughs by Bajaj. BAL is also a pioneer in product innovation having introduced technologies such as ExhausTEC (Exhaust Torque Expansion Chamber), LED Tail Lamps, LCD Display, SNS, Spare parts (Tubeless tyres, rear disc brakes), Black colour scheme etc.
Thus we observe that BAL which used to be a Defender in 1970-1990 through Bajaj Chetak radically moved towards becoming an Analyzer (1990-1997) by focussing on bike segments and has now become a Prospector (1997-date) with several patents in its kitty and new bike launches every year. Therefore, for a follower to move on and become a market leader it is essential that it focus on innovation and consumer demand.
The Way Ahead
Graduating Customers from the 100cc to Higher Segments
There are several reasons why Bajaj should concentrate on its core segment, i.e. greater than 125cc segment. With the introduction of DTS-i and DTS-Fi technology, Bajaj Auto Limited has led the way in pioneering technology along with style.
The Profitability Pyramid in Exhibit 4 shows that the margin is very low in the sub-125cc segment but volumes are high. BAL wants to shift users from 100, 115cc segment to 125cc and higher. Thus Bajaj not only wants to play on the margins but also wants to increase the market share of 125cc bikes. With its recent launch of XCD 125cc, it has brought in competition for its own 100cc model, Platina by delivering a bike that is better in all respects (including fuel efficiency).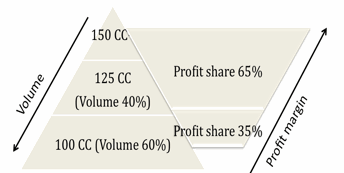 Thus, we conclude that Bajaj wants to make a slow departure from 100cc segment. It has already stopped production of the Discover 125 and will continue production of the Platina until the demand for the 100cc remains. It has priced the XCD between the Platina and the Discover and in the future, would ideally wish to project the XCD 125 as its base model.
Focus on Gearless Scooters
The market share of gearless scooters is increasing at a healthy rate. Bajaj is virtually absent in this range that caters to the needs of women and families. Presently Honda, Hero Honda and TVS are big players in this segment.
Entry into Four Wheeler Segment
Bajaj has entered into a joint venture with Renault-Nissan in the development of a small car priced at $30004. This is a significant move because it directly competes with Tata NANO. Bajaj has also displayed its small car prototype in the recently held auto expo. It promises double the mileage as compared to any car in the economy segment and is also considering the option of introducing Diesel and LPG variants. The four wheeler segment will also be able to hedge any risk that might arise because of the two wheeler industry and would profit from retaining consumers switching from two wheelers.
Scaling Up Service Centers
BAL needs to scale up its service centers both in numbers and in capacity. Keeping in line with its growth target for the next 5 years, its service centers should not only cater to two wheelers but should also be upgraded to cater to the needs of four wheelers that Bajaj plans to launch.
Focus on Easy Credit Lending
In the present economical crisis, Bajaj can utilize its subsidiary, Bajaj insurance in coming up with schemes that will help consumers buy two wheelers on friendly terms.
Investment in Research and Development
We have already identified that the core competency of Bajaj is its R&D and investment in technology. In order to increase market share and become the market leader, Bajaj needs to invest heavily in R&D. They have to introduce efficient and powerful bikes as well as develop alternate energy vehicles.
Focus on Exports and Global Market
Bajaj Electricals has already setup a manufacturing unit in China. As set up cost and export costs are extremely cheap in China, we recommend the same strategy for BAL. By doing so, Bajaj can utilize low cost exports.
Bajaj is not yet a global name. Considering the fact that it is one of the oldest two wheeler companies and is doing very well in India, it should definitely target global markets. A movement is seen in this direction since it is focusing on the British cult bike company, Triumph as its target takeover. Triumph, given its niche positioning, cult brand image and strong product line-up, is an attractive target for the Pune based firm.
Disbanding of Dedicated Sales Force for each Product
Because of the differentiation in the products that Bajaj currently possesses and is expected to launch in the near future we recommend Bajaj to discontinue its current strategy of dedicated sales force for each product line. This would eventually achieve synergies in selling thereby leading to a reduction in costs.
Conclusion
Through this article we have tried to identify various factors that would impact growth of a company in two wheeler industry. We reflected on the importance of innovation and consumer demand. To graduate from being followers to market leaders, companies need to invest in the right technologies and develop the right products at the right time. Bajaj has shown the willingness to change and thus has been able to achieve strong sales growth. To further consolidate its position and gain market share in the industry, Bajaj needs to do strategic rethinking and assess its product focus. The new strategy should also be backed by efficient on the ground customer support and continuous research for product innovation.
Contributors
Murali Patibandla is a Professor in the Corporate Strategy & Policy Area at IIM Bangalore. He is Fulbright Post-doctoral Fellow from the University of California, Berkeley. He holds a Ph D in Economics from Jawaharlal Nehru University, India. He can be reached at muralip@iimb.ernet.in
Prasoon Agrawal (PGP 2007-09) holds a B.E from National Institute of Technology, Allahabad and can be reached at prasoona07@iimb.ernet.in
Deepak Chourasiya (PGP 2007-09) holds a B.E from SGSITS, Indore and can be reached at deepakc07@iimb.ernet.in
Ranjit Deka (PGP 2007-09) holds a B.E from MANIT, Bhopal and can be reached at ranjitd07@iimb.ernet.in
Sourav Kumar (PGP 2007-09) holds a BTech from Indian Institute of Technology, Guwahati and can be reached at souravk07@iimb.ernet.in
Ravi Sonthalia (PGP 2007-09) holds a BCom from Delhi University and can be reached at ravis07@iimb.ernet.in
Keywords
Two wheeler industry, Strategy, Bajaj Auto Limited, Demand growth drivers, Industry problems
References